All AGRO members, retirees, and friends of the Division are invited to join this special 50th Anniversary celebration during the ACS 2023 Fall National Meeting in San Francisco August 13 to 17, 2023.
By highlighting the rich history, accomplishments, and contributors of 50+ years of AGRO success, we hope to educate and inspire the next generation regarding Divisional activities and participation.

RSVP Now for AGRO 50 and Beyond Anniversary Gala 
Wednesday, August 16, 5:00-8:00 pm
Moscone Center, West Building Exhibit Hall
Cost: Free for AGRO members and symposium presenters
The highlight of the AGRO Division's celebration of its 50th Anniversary at the Fall 2023 ACS meeting will be the AGRO 50 and Beyond Gala Reception.  The gala will be held on Wednesday August 16 in the Moscone Center West Building Exhibit Hall from 5:00 PM to 8:00PM PDT and will be an in-person only event.  All AGRO members and presenters in AGRO sessions are invited to attend and are eligible to bring one guest.  Festivities will include food, drink, games, prizes, an interactive Divisional history display, and tabletop displays by agrochemical-related partners.  AGRO award recipients, past Divisional leaders, and long-time members will be recognized and honored. Attendees will receive greetings from ACS and AGRO Division leaders and have an opportunity to toast AGRO's rich history as well as its exciting future.  The gala is free of charge for AGRO members and presenters but is limited to 200 people, and attendees must pre-register via the AGRO Division website by August 11.  Click here to register for the gala.  Contact Ken Racke with any questions.

Purchase your Tickets Now: From Research to Table: A Tour of California Agriculture
Thursday, August 17, All Day
Cost: $75 including lunch
Chartered Bus will depart from Moscone Convention Center at 7:00 am and return between 5:00PM and 6:00PM.  The exact location of the bus stop to be provided later.
Lunch – We will enjoy a box luncheon at the Putah Creek Lodge on campus.  A lunch speaker will provide a wrap-up of the morning's activities.  After lunch we will travel to the USDA Germplasm Repository and Experimental Orchard.  Staff horticulturists will provide an overview of the repository's gene bank, a walking tour of the orchard and viewing of their grape diversity collection.  Table displays will illustrate the genetic diversity of the orchard and provide tasting opportunities.  Afterwards, we will travel along agricultural fields with a stop to hear about pre- and post-harvest fungicides, and pre-plant fumigants.  We will then visit a commercial prune grove which will be one of our last field stops.
Return Trip – Our bus trip home will be highlighted by a presentation on the history and sustainability efforts of Gallo Winery. Founded in 1933 by brothers Ernest and Julio Gallo, E. & J. Gallo Winery is a family-owned company and global wine and spirits industry leader. The winery is known for its lasting commitment to sustainability and quality.  Our last tour activity will be a toast to AGRO and California agriculture with a glass of bubbly graciously supplied by Gallo.  Sparkling apple juice will also be available.
To purchase a ticket either 1) select this ACS-ticketed social event during registration for the meeting or 2) update your registration to include a ticket via the ACS Registration Resource Center (link in the original notice of registration received or follow the link in one of the "Register for Social Events for ACS Fall 2023" emails that ACS has been sending out recently to registrants).  Contact Jeanette Van Emon with any questions.
SPECIAL SYMPOSIA
In addition to our normal technical programming, two special symposia are being proposed for San Francisco to help the Division celebrate past accomplishment and look forward to the future:
Chemistry For and From Agriculture
AGRO Division Legacy and Future Opportunities. This symposium will highlight historic developments and contributions of the AGRO Division as well as provide perspectives on what to expect in the future for our science. The symposium will feature speakers who have been AGRO science leaders and will be immediately followed by the AGRO 50 and Beyond Gala Celebration.
The Future of Agriculture and Food
Sustainable Approaches to Achieve Zero Hunger. This symposium is being co-organized by the AGRO and AGFD Divisions in cooperation with key ACS and agricultural partners. It is designed to raise awareness of agriculture's role in achieving sustainable development goals and will include a joint virtual issue of the ACS journals Food Sci. Technol., Agric. Sci. Technol., and J. Agric. Food Chem. Details will be available soon.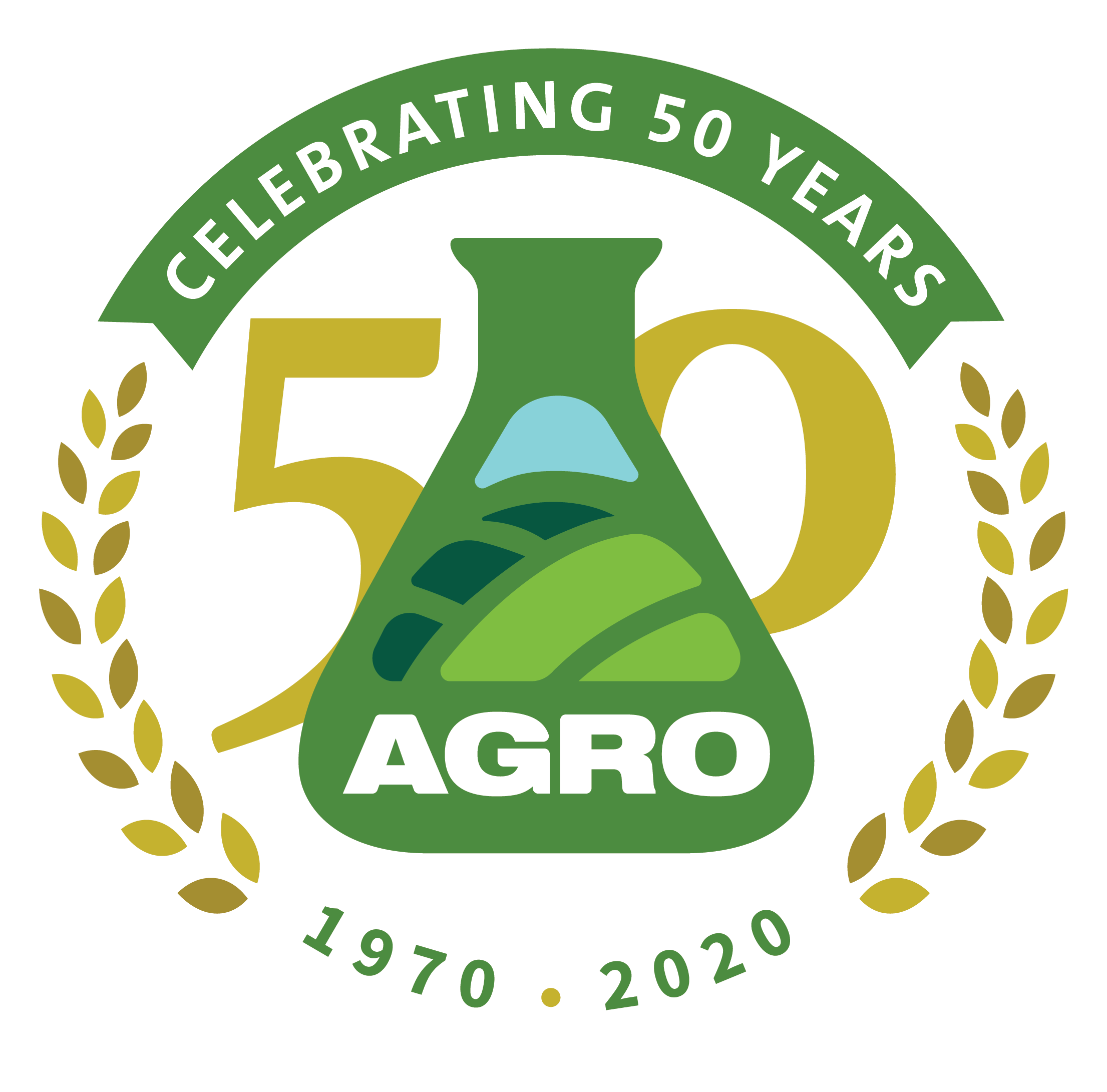 AGRO HISTORICAL TIMELINE
To help capture key elements of AGRO history along with important scientific and regulatory developments in agrochemicals, an AGRO Historical Timeline has been prepared. The timeline project was led by longtime AGRO contributors Cheryl Cleveland, Amy Ritter, and Teresa Wehner, and many individual contributions from AGRO members have been included.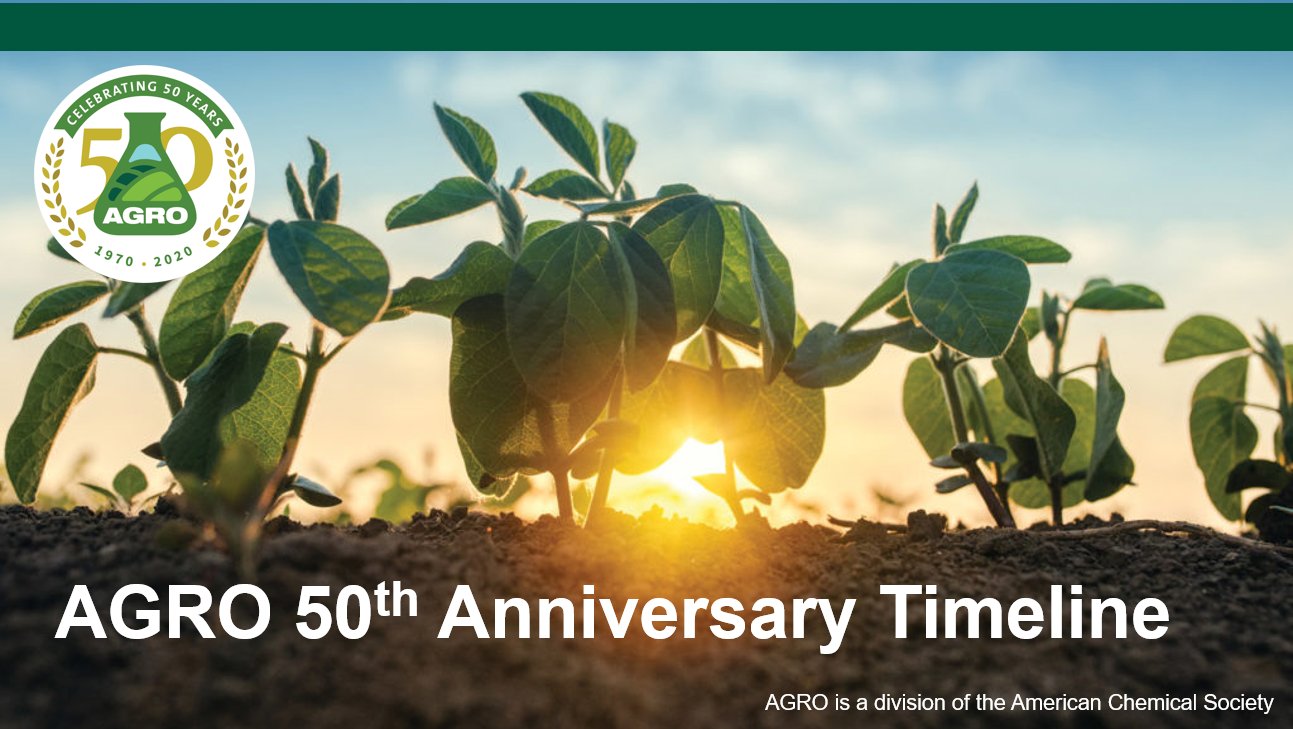 AGRO Division 50th Anniversary: Virtual Special Issue of Journal of Agricultural and Food Chemistry and ACS Agricultural Science & Technology
As part of this celebration, Journal of Agricultural and Food Chemistry and ACS Agricultural Science and Technology are issuing a call for papers inviting all AGRO members and all those presenting papers in the AGRO Division program to consider submitting a paper for a Virtual Special Issue.
All AGRO members and those presenting papers in the AGRO Division program may submit a manuscript proposal including a title, short abstract and manuscript type by email to the Editors at hofmannoffice@jafc.acs.org stating whether they intend to submit their manuscript to Journal of Agricultural and Food Chemistry or ACS Agricultural Science & Technology. All manuscripts will go through the normal peer-review process.
The deadline for manuscript submission to the journal will be October 1, 2023. Manuscripts will be released on-line once accepted and proofed. Papers from both journals will be posted together on a Virtual Special Issue webpage. For more information see the Call for Papers page.
Sponsorship Opportunities
We are soliciting a limited number of additional table sponsorships to help fund the Gala Celebration, and we express thanks to those organizations who have already joined as sponsors (see below). Organizational sponsorship of a Gala Table will be $800 to $1000 and benefits will include the ability to share a historical display. Visit the Become a Sponsor page on the AGRO website for full details and a listing of sponsor benefits.
Thank you to our 50th Anniversary Gala Celebration Sponsors