The ACS Award for Innovation in Chemistry of Agriculture is given to an active researcher working in North America for a chemical innovation that significantly enhances agricultural or veterinary pest management and productivity. This award includes an honorarium of $5000 USD. Nominations should be received by the award committee chair by December 31 of each year. Contact Qing Li, AGRO Awards Committee Chair, 808-956-2011 for more information.
2023 Awardee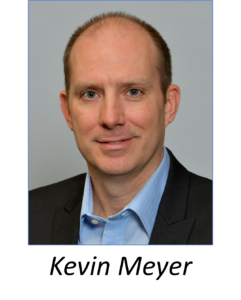 Kevin G. Meyer began his career in agriculture on the family farm in northwest Missouri. Following that bit of education, he attended Truman State University in Kirksville, Missouri, receiving his B.S. in Chemistry in 1994. He then went to Indiana University in Bloomington, IN and receives his Ph.D. in Organic Chemistry under the guidance of Professor David Williams. His research focused on the first total synthesis of the macrolide, Amphidinolide K, a synthesis that also established the stereochemistry of the natural product.
Kevin's professional career with Corteva Agriscience (legacy Dow AgroSciences) began in 1999 where he has been primarily interested in the discovery and development of new fungicides for crop disease management. His first project involved a collaboration with Meiji Seika Pharma Co. to utilize the natural product UK-2A to make novel fungicides. This resulted in the discovery of fenpicoxamid, whose mode of action to control wheat leaf blotch is the first new entry into the European cereals market in two decades.
To expand the utility of this new class of chemistry, Kevin led a cross-functional team of scientists to use UK-2A as inspiration for new, synthetically accessible analogs that exploited the potential of the UK-2A target site. Employing a modular approach to scope the structural elements of UK-2A's macrocyclic ring, the team discovered the functional pharmacophore responsible for exceptional in planta activity, and using this new knowledge, they invented florylpicoxamid, a fungicide with multi-pathogen, multi-crop utility. This effort also resulted in the discovery of metarylpicoxamid, a third generation picolinamide whose primary use is in the control of Asian soybean rust.
Now a Laureate in Small Molecules Discovery & Development at Corteva Agrisciences, Kevin has won company awards for his research, including the R&D Excellence in Science Award and the team based Corteva Agriscience Worldwide Research Award for Breakthrough Innovation. He is a co-inventor on 48 granted patents and has authored or co-authored over 52 manuscripts, book chapters, external posters and presentations..
2022
Joel Coats, Iowa State University, Ames, IA
2021
Jeffrey Bloomquist, University of Florida, Gainesville, Florida
2020
Ke Dong, Michigan State University, East Lansing, Michigan
2019
Pamela G. Marrone, Marrone Bio Innovations, Davis, California
2018
Vincent L. Salgado, BASF, Research Triangle Park, North Carolina
2017
Qing X. Li, University of Hawai'i at Mānoa
2016
Thomas M. Stevenson, DuPont Crop Protection
2015
Thomas C. Sparks, Dow AgroSciences, Indianapolis, Indiana
2014
Scott R. Yates, USDA-Agricultural Research Service, Riverside, California
2013
Jeanette M. Van Emon, US Environmental Protection Agency, Las Vegas, Nevada
2012
Steven J. Lehotay, USDA-Agricultural Research Service, Wyndmoor, Pennsylvania