The ACS Award for Innovation in Chemistry of Agriculture is given to an active researcher working in North America for a chemical innovation that significantly enhances agricultural or veterinary pest management and productivity. This award includes an honorarium of $5000 USD. Nominations should be received by the award committee chair by December 31 of each year. Contact Qing Li, AGRO Awards Committee Chair, 808-956-2011 for more information.
2020 Awardee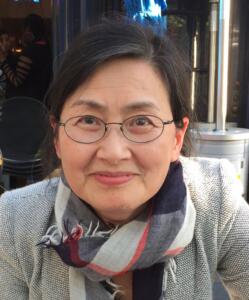 Ke Dong is a professor in the Department of Entomology at Michigan State University and is being honored for her more than two decades of outstanding contributions to the field of molecular insecticide toxicology.
Ke's interests in Entomology and Toxicology started while growing up on a campus of the Sericultural Research Institute in Zhejiang Province, China, where her mother worked as a chemist. In high school, Ke worked in a Silkworm Physiology and Breeding Laboratory and was fascinated by the silkworm biology and physiology, but witnessed the devastating impact of pesticides and pathogens on silkworm health and production. She received a B.S. degree in Entomology at Zhejiang Agricultral and Forestry University in 1983 and a M.S. degree in Entomology at Zhejiang University in 1986.
In 1988, Ke began her Ph.D. journey at Cornell Univeristy with Jeffery Scott in Insecticide Toxicology. Her research sparked her long-term passion toward understanding the molecular mechanisms of insecticide action and resistance in diverse insect species. She was among the first to show that pyrethroid insecticidal resistance in the German cockroach was associated with mutations in the voltage-gated sodium channel gene. This seminal finding provided an important starting point for much of the research conducted in her own group at Michigan State University where she started as Assistant Professor in 1995.
Using a combination of toxicological, electrophysiological, pharmacological, and molecular approaches, Ke's research has led to foundational knowledge on molecular actions of pyrethroids and sodium channel blocker insecticides (SCBIs), the molecular basis of selectivity of pyrethroids, the molecular and functional diversity of insect sodium channels, the putative binding sites of pyrethroids and SCBIs, the surprising function of the Drosophila Sodium Channel 1 (DSC1) protein as a prototype of a new ion channel family, and, more recently, the molecular basis of repellency by pyrethrum and pyrethroids. She has received over $10 million of federal funding from the U.S. National Institutes of Health (for more than 20 consecutive years), the U.S. National Science Foundation, and the U.S. Department of Agriculture.
Ke has served on the AGRO Executive Committee (2014 – 2016) and is a member of the editorial boards of Insect Biochemistry and Molecular Biology (since 2008) and Pesticide Biochemistry and Physiology (since 2008).
In September 2020, Ke will move her lab to the Department of Biology at Duke University, where she will continue her teaching and research in the areas of insect neurobiology and neurotoxicology. Her husband, Sheng-Yang He, is a professor in plant biology. Their son, Cody, is pursuing an M.D./Ph.D. at the University of Chicago. Besides her work, Ke enjoys cooking, reading, bird watching, and travelling around the world.
2019
Pamela G. Marrone, Marrone Bio Innovations, Davis, California
2018
Vincent L. Salgado, BASF, Research Triangle Park, North Carolina
2017
Qing X. Li, University of Hawai'i at Mānoa
2016
Thomas M. Stevenson, DuPont Crop Protection
2015
Thomas C. Sparks, Dow AgroSciences, Indianapolis, Indiana
2014
Scott R. Yates, USDA-Agricultural Research Service, Riverside, California
2013
Jeanette M. Van Emon, US Environmental Protection Agency, Las Vegas, Nevada
2012
Steven J. Lehotay, USDA-Agricultural Research Service, Wyndmoor, Pennsylvania