The ACS Award for Innovation in Chemistry of Agriculture is given to an active researcher working in North America for a chemical innovation that significantly enhances agricultural or veterinary pest management and productivity. This award includes an honorarium of $5000 USD. Nominations should be received by the award committee chair by December 31 of each year. Contact Qing Li, AGRO Awards Committee Chair, 808-956-2011 for more information.
2021 Awardee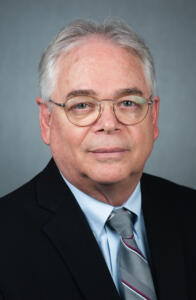 Jeffrey Bloomquist was raised in northern Indiana and obtained BS (Purdue University, 1978), MS (Mississippi State University, 1981), and PhD (University of California, Riverside, 1984), all in entomology.  He then held postdoctoral appointments at Cornell University (1985-1988), before accepting a position with Rhone-Poulenc Ag Co. He moved to the Department of Entomology at Virginia Tech as an assistant professor in 1989 and attained the rank of full professor in 2003.
Jeff has established an internationally recognized program in neurotoxicology, including work on toxicant-induced neurodegeneration, as well as insecticide resistance and the search for new insect control molecules. In 2009, he relocated his laboratory to the University of Florida, where he currently leads multiple projects on new insecticides and repellents for mosquito control. The overall goal is a new commercial material of high efficacy, but without any field resistance. This research began while still at Virginia Tech with the investigation of novel bivalent inhibitors of acetylcholinesterase (AchE) and explored the topography of the insect catalytic gorge with compounds that interacted with both the peripheral and catalytic sites of the enzyme. This research, funded by the Grand Challenges in Global Health program and the National Institute of Allergy and Infectious Diseases, identified bivalent inhibitors with contact activity and little cross resistance, as well as novel carbamate compounds having over 500-fold selectivity for malaria mosquito AchE compared to human AchE, contrary to established dogma that anticholinesterases are inherently non-selective. Recent experiments on honeybees and varroa mites have shown that two of these carbamates have excellent activity against varroa with little or no toxicity to bees.
Subsequent research, supported by the Foundation for the National Institutes of Health, aimed to optimize the selectivity and insecticidal efficacy of compounds acting upon voltage-sensitive potassium channels of insect nerve and muscle, a novel target. This research led to the identification of a new lead molecule, 2-methoxy-N-((1-phenylcyclopentyl)methyl)benzamide, that shows promise as a new lead for insect control, which also acts as a strong synergist of pyrethroids.
Research supported by the Deployed War Fighter Research Program on new chemical repellents for disease vector control resulted in the identification of novel phenyl and pyridine amides that have repellent potency several times that of DEET. Evaluation of the insecticidal activity of this group identified molecules having high contact and vapor efficacy, with no kdr cross resistance.
Finally, he also demonstrated that pyrethroid acids can be repellent and act as strong synergists of standard repellents, as well as pyrethroids themselves. The synergism is achieved through two mechanisms; enhanced vaporization from treated surfaces, as well as enhanced neuronal responses at the level of the antennae. Overall, his discovery research has resulted in significant advances in repellent and insecticide chemistry and efficacy.
2020
Ke Dong, Michigan State University, East Lansing, Michigan
2019
Pamela G. Marrone, Marrone Bio Innovations, Davis, California
2018
Vincent L. Salgado, BASF, Research Triangle Park, North Carolina
2017
Qing X. Li, University of Hawai'i at Mānoa
2016
Thomas M. Stevenson, DuPont Crop Protection
2015
Thomas C. Sparks, Dow AgroSciences, Indianapolis, Indiana
2014
Scott R. Yates, USDA-Agricultural Research Service, Riverside, California
2013
Jeanette M. Van Emon, US Environmental Protection Agency, Las Vegas, Nevada
2012
Steven J. Lehotay, USDA-Agricultural Research Service, Wyndmoor, Pennsylvania