The ACS International Award for Research in Agrochemicals is given to a scientist who has made outstanding contributions to the field of agrochemicals at the international level. Their vision and sustained contributions will have opened new horizons for other investigators in their field and beyond. Nominations are now being sought for the 2021 Award winner to be presented at the ACS Fall 2022 National Meeting in Chicago, Illinois.  This award includes an honorarium of $5000 USD. Deadline for nominations is December 31, 2020. For details on the nomination process, see the the Call for Nominations.
For more information, please contact Qing Li, AGRO Awards Committee Chair, 808-956-2011.
2020 Award Recipient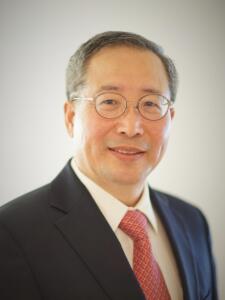 Qing X. Li received his Ph.D. in agricultural and environmental chemistry from the University of California at Davis in 1990 and then post-doctoral training at the University of California at Berkeley. In 1995, he joined the University of Hawai'i (UH) at Mānoa as an assistant professor. He received tenure and promotion to an associate professor in 1999 and to professor in 2002.
Agricultural chemistry is a cornerstone, essential to the production and protection of our crops, livestock, and land. Qing's research has greatly advanced understanding of agricultural chemistry even at the most fundamental levels. His work has covered a broad range of topics, incuding chemical proteomics, phytopharmaceuticals, pesticide chemistry, environmental fate of pesticides and pollutants, immunoassays, food safety, and environmental remediation. His work has resulted in more than 400 peer-reviewed scientific publications and 20 patent applications and licensing and technology disclosures. His papers were cited more than 10,000 times. His current H-index by Google Scholar is 52, and his current i10-index is 221. As of February 2020, Qing is ranked the 4th most prolific author in the University of Hawai'i system in SciFinder.
Qing has maintained a very active research program over the past 24 years at UH-Mānoa. He has mentored 49 undergraduates, 19 M.S. students, 28 Ph.D. students, 32 post-doctoral fellows, 20 junior researchers, and 43 visiting scientists in leadership positions around the world. A few of his scientific highlights include immunochemical research that finds ways to make sensitive and rapid diagnostic kits for pesticides and toxicants. He and his colleagues discovered π-cation interactions between an antibody and the target molecule as a mechanism of molecular recognition, which has been widely used in the design and synthesis of novel drugs and pesticides. This concept has been recently used by his group to improve the potency of Alzheimer's drug candidates by 300+ fold.
Qing's bioremediation research explains how recalcitrant chemicals resist microbial transformation in the environment, which helps effectively remediate contaminated sites. His research in chemical proteomics elucidates novel modes of action of bioactive molecules such as drug and insecticide candidates as well as structure and function relationship of enzymes. His team discovered that some monoterpenoids are selective insecticides. Recently, his group discovered flavonoids in maize silk that are potentially active against Alzheimer's disease and elucidated the mechanism of action as selective modulation of glycogen synthase kinase-3β via an adenosine triphosphate (ATP) noncompetitive inhibition. His work has supported the registration/re-registration of 20 pesticides in 26 minor crops as part of the IR-4 program.
The quality, originality, and significance of Qing's research has been well-recognized by numerous awards such as the American Chemical Society (ACS) AGRO Award for Innovation in Chemistry of Agriculture (2017), UH Board of Regents' Research Medal (2020), and ACS AGRO International Award for Research in Agrochemicals (2020). He is a member of the US National Academy of Inventors (2015). He has been an associate editor for the ACS Journal of Agricultural and Food Chemistry since 2015 and currently serves as the AGRO Division vice chair.
2019
Vincent L. Salgado, BASF, Research Triangle Park, North Carolina
2018
Stephen Powles, University of Western Australia, Australia
2017
Jeffrey Bloomquist, University of Florida, Gainesville, Florida
2016
Yoshihisa Ozoe, Shimane University, Japan
2015
Keith D. Wing, formerly of Rohm and Haas and DuPont Crop Protection, Wilmington, DE
2014
Ralf Nauen, Bayer CropScience, Monheim, Germany
2013
René Feyereisen, National Institute of Agronomic Research (INRA), France
2012
Thomas C. Sparks, Dow AgroSciences, Indianapolis, IN
2011
George P. Lahm, DuPont Crop Science, Newark, Delaware
2010
Shinzo Kagabu, Gifu University, Gifu, Japan
2009
R. Donald Wauchope, USDA-ARS (retired), Tifton, Georgia
2008
David M. Soderlund, Cornell University, Ithaca, New York
2007
Gerald T. Brooks, University of Sussex (retired), Brighton, UK
2007
Fredrick J. Perlak, Monsanto, St. Louis, Missouri
2006
Joel Coats, Iowa State University, Ames
2006
Isamu Yamaguchi, Agricultural Chemicals Inspection Station, Tokyo, Japan
2005
Robert Krieger, University of California-Riverside
2005
Janice E. Chambers, Mississippi State University, Starkville
2004
Stephen Duke, USDA-ARS, Oxford, Mississippi
2004
John Marshall Clark, University of Massachusetts-Amherst
2003
Hideo Ohkawa, Kobe University, Japan
2003
Bob Hollingworth, Michigan State University, East Lansing
2002
Marinus Los, American Cyanamid, Princeton, New Jersey
2002
Keith Solomon, University of Guelph, Canada
2001
Ralph Mumma, Pennsylvania State University, University Park
2001
Donald Crosby, University of California-Davis
2000
Herbert B. Scher, Zeneca, Richmond, California
2000
George P. Georghiou, University of California-Riverside
1999
James Seiber, University of Nevada-Reno
1999
Don Baker, Zeneca, Richmond, California
1998
Leslie Crombie, University of Nottingham, England
1998
George Levitt, DuPont, Wilmington, Delaware
1997
Izuru Yamamoto, University of Tokyo, Japan
1997
Fritz Führ, Institute of Chemistry and Dynamic, Jülich, Germany
1996
Klaus Naumann, Bayer AG, Leverkusen, Germany
1996
Günther Voss, Ciba, Basel, Switzerland
1995
Mohyee Eldefrawi, University of Maryland-Baltimore
1995
Koji Nakanishi, Columbia University, New York, New York
1994
Toshio Fujita, Kyoto University, Japan
1993
Morifusa Eto, Kyushu University, Fukoka, Japan
1992
Bruce Hammock, University of California-Davis
1991
Stuart Frear, USDA-ARS, Fargo, North Dakota
1990
David Schooley, University of Nevada-Reno
1989
Toshio Narahashi, Northwestern University, Evanston, Illinois
1988
Ernest Hodgson, North Carolina State University
1987
Fumio Matsumura, Michigan State University, East Lansing
1986
James Tumlinson, USDA-ARS, Gainesville, Florida
1985
Junshi Miyamoto, Sumitomo Chemical Co., Japan
1984
Jacques Jean Martel, Roussel Uclaf, Paris, France
1983
Karl Heinz Buechel, Bayer AG, Leverkusen, Germany
1982
Jack R. Plimmer, USDA-ARS, Beltsville, Maryland
1981
Philip C. Kearney, USDA-ARS, Beltsville, Maryland
1980
Minoru Nakajima, Kyoto University, Japan
1979
Milton S. Schechter, USDA-ARS (retired), Beltsville, Maryland
1978
Julius J. Menn, Stauffer Chemical Co., Mountain View, California
1977
Francis A. Gunther, University of California-Riverside
1976
Morton Beroza, USDA-ARS (retired), Beltsville, Maryland
1975
Michael Elliot, Rothamsted Experimental Station, Harpenden, England
1974
T. Roy Fukuto, University of California-Riverside
1973
Hubert Martin, British Crop Protection Council, London, England
1972
Ralph L. Wain, Wye College, University of London,England
1971
Robert L. Metcalf, University of Illinois, Champagne-Urban
1970
Richard D. O'Brien, Cornell University, Ithaca, New York
1969
John E. Casida, University of California-Berkley