The ACS International Award for Research in Agrochemicals is given to a scientist who has made outstanding contributions to the field of agrochemicals at the international level. Their vision and sustained contributions will have opened new horizons for other investigators in their field and beyond. Nominations are now being sought for the 2021 Award winner to be presented at the ACS Fall 2021 National Meeting in Atlanta, Georgia.  Deadline for nominations is December 31, 2019. For details on the nomination process, see the the Call for Nominations.
For more information, please contact James Seiber, AGRO Awards Committee Chair, 530-752-1141.
2019 Award Recipient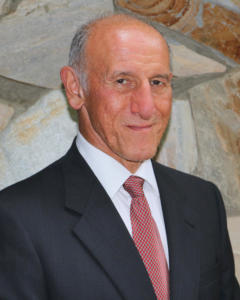 Vincent L. Salgado, a Principal Scientist at BASF Corporation in Research Triangle Park, North Carolina, is being recognized for his work promoting the understanding of insecticide modes of action. 
Vince was born in Akron, Ohio, as the second of four children, and attended schools in New Jersey and Southern California. His interest in neurophysiology while an undergraduate at the University of California at Riverside brought him to the lab of Professor Thomas A. Miller, where he was inspired by the enthusiasm and dedication of the many interesting and talented people studying insects and insecticides. After obtaining his BS (1976), he spent the summer setting up a neurophysiology lab at Burroughs-Wellcome in Berkhamsted, England, where he worked with leading British insecticide researchers there and at nearby Rothamsted Experiment Station. 
Back in Riverside, Vince returned to Miller's lab, where he obtained his PhD in Entomology (1981) working closely with postdoc Stephen N. Irving to show that like DDT and the type I pyrethroids, type II pyrethroids were working on sodium channels and not at another target, as was thought by some scientists. His postdoctoral research under Professor Toshio Narahashi at Northwestern University Medical School provided a deeper understanding of the mechanism of action of type II pyrethroids on sodium channels using axonal and single-channel voltage clamp methods. 
Vince went into the chemical industry to apply his expertise in neurophysiology and insect toxicology to the discovery of insecticides with novel modes of action. During his time at Rohm and Haas, Dow AgroSciences, Rhone-Poulenc Agro, Aventis CropScience, Bayer CropScience, and BASF, he contributed to many research projects and discoveries of novel modes of action, including block of voltage-dependent sodium channels (IRAC Group 22), allosteric modulation of nicotinic acetylcholine receptors (IRAC Group 5) and, in collaboration with Professor Martin Goepfert at Goettingen University and Alexandre Nesterov and other colleagues at BASF, modulation of TRPV channels in chordotonal stretch receptor organs (IRAC Group 9). 
Vince's work has also led to new insights into insect neurotransmitter receptors and insecticides acting on them. He defined the two major classes of nicotinic acetylcholine receptors in insect nervous systems, desensitizing and non-desensitizing, which serve as targets for neonicotinoids (IRAC Group 4) and spinosyns (IRAC Group 5), respectively. With Xilong Zhao at BASF, he has also published extensively on ligand-gated chloride channels in insects, identifying two glutamate-gated chloride channel (GluCl) subtypes and demonstrating that fipronil acts on both types, in addition to its known action on GABA receptors. 
Vince has recently made groundbreaking contributions to the science of ectoparasite host-seeking and repellent action with the discovery that ticks hone in on hosts using radiant heat and that repellents potently disrupt their ability to do this. 
Vince has also contributed more broadly to the advancement of pesticide science by serving on grant review boards and the editorial board of the journal NeuroToxicology, as well as by organizing symposia at meetings of the ACS and the International Congress of Entomology. He has also helped the chemical industry's effort to promote the sustainable use of insecticides by serving on the Insecticide Resistance Action Committee (IRAC) for more than 10 years. He has published more than 50 research articles and reviews, holds eight patents, and has mentored three graduate students and postdocs. 
In his free time, Vince enjoys woodworking, metalworking, sailing, kitesurfing, and spending time with his partner Suzanne Hixson and his two adult sons Robert and Michael. 
2018
Stephen Powles, University of Western Australia, Australia
2017
Jeffrey Bloomquist, University of Florida, Gainesville, Florida
2016
Yoshihisa Ozoe, Shimane University, Japan
2015
Keith D. Wing, formerly of Rohm and Haas and DuPont Crop Protection, Wilmington, DE
2014
Ralf Nauen, Bayer CropScience, Monheim, Germany
2013
René Feyereisen, National Institute of Agronomic Research (INRA), France
2012
Thomas C. Sparks, Dow AgroSciences, Indianapolis, IN
2011
George P. Lahm, DuPont Crop Science, Newark, Delaware
2010
Shinzo Kagabu, Gifu University, Gifu, Japan
2009
R. Donald Wauchope, USDA-ARS (retired), Tifton, Georgia
2008
David M. Soderlund, Cornell University, Ithaca, New York
2007
Gerald T. Brooks, University of Sussex (retired), Brighton, UK
2007
Fredrick J. Perlak, Monsanto, St. Louis, Missouri
2006
Joel Coats, Iowa State University, Ames
2006
Isamu Yamaguchi, Agricultural Chemicals Inspection Station, Tokyo, Japan
2005
Robert Krieger, University of California-Riverside
2005
Janice E. Chambers, Mississippi State University, Starkville
2004
Stephen Duke, USDA-ARS, Oxford, Mississippi
2004
John Marshall Clark, University of Massachusetts-Amherst
2003
Hideo Ohkawa, Kobe University, Japan
2003
Bob Hollingworth, Michigan State University, East Lansing
2002
Marinus Los, American Cyanamid, Princeton, New Jersey
2002
Keith Solomon, University of Guelph, Canada
2001
Ralph Mumma, Pennsylvania State University, University Park
2001
Donald Crosby, University of California-Davis
2000
Herbert B. Scher, Zeneca, Richmond, California
2000
George P. Georghiou, University of California-Riverside
1999
James Seiber, University of Nevada-Reno
1999
Don Baker, Zeneca, Richmond, California
1998
Leslie Crombie, University of Nottingham, England
1998
George Levitt, DuPont, Wilmington, Delaware
1997
Izuru Yamamoto, University of Tokyo, Japan
1997
Fritz Führ, Institute of Chemistry and Dynamic, Jülich, Germany
1996
Klaus Naumann, Bayer AG, Leverkusen, Germany
1996
Günther Voss, Ciba, Basel, Switzerland
1995
Mohyee Eldefrawi, University of Maryland-Baltimore
1995
Koji Nakanishi, Columbia University, New York, New York
1994
Toshio Fujita, Kyoto University, Japan
1993
Morifusa Eto, Kyushu University, Fukoka, Japan
1992
Bruce Hammock, University of California-Davis
1991
Stuart Frear, USDA-ARS, Fargo, North Dakota
1990
David Schooley, University of Nevada-Reno
1989
Toshio Narahashi, Northwestern University, Evanston, Illinois
1988
Ernest Hodgson, North Carolina State University
1987
Fumio Matsumura, Michigan State University, East Lansing
1986
James Tumlinson, USDA-ARS, Gainesville, Florida
1985
Junshi Miyamoto, Sumitomo Chemical Co., Japan
1984
Jacques Jean Martel, Roussel Uclaf, Paris, France
1983
Karl Heinz Buechel, Bayer AG, Leverkusen, Germany
1982
Jack R. Plimmer, USDA-ARS, Beltsville, Maryland
1981
Philip C. Kearney, USDA-ARS, Beltsville, Maryland
1980
Minoru Nakajima, Kyoto University, Japan
1979
Milton S. Schechter, USDA-ARS (retired), Beltsville, Maryland
1978
Julius J. Menn, Stauffer Chemical Co., Mountain View, California
1977
Francis A. Gunther, University of California-Riverside
1976
Morton Beroza, USDA-ARS (retired), Beltsville, Maryland
1975
Michael Elliot, Rothamsted Experimental Station, Harpenden, England
1974
T. Roy Fukuto, University of California-Riverside
1973
Hubert Martin, British Crop Protection Council, London, England
1972
Ralph L. Wain, Wye College, University of London,England
1971
Robert L. Metcalf, University of Illinois, Champagne-Urban
1970
Richard D. O'Brien, Cornell University, Ithaca, New York
1969
John E. Casida, University of California-Berkley