The AGRO Fellow Award recognizes members for dedicated and enthusiastic service to the division.
Criteria for nominees shall be: "Continued and substantial contributions of time, talents, and service to the AGRO Division of ACS and to the agrochemical science over a period of at least six years." Nominations include a letter, noting the contributions to the Division, and a current curriculum vitae. Deadline for submitting nominations is March 31st of each year. Nominations should be submitted to the chair of the Awards Committee: Dr. Qing Li, 808-956-2011.
2022 AGRO Fellow Award Recipients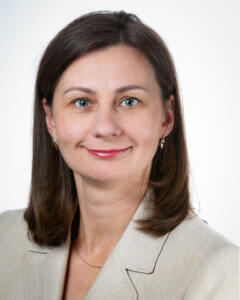 Yelena Sapozhnikova is a Research Chemist at the Eastern Regional Research Center, Agricultural Research Service, United States Department of Agriculture (USDA) in Wyndmoor, Pennsylvania.
Yelena's research focuses on the development of novel methods for analysis of chemical contaminants, including pesticides, veterinary drugs, legacy and emerging contaminants to improve their analysis and enhance food safety. She conducts research projects on sample processing and preparation, analytical separations, detection, data processing and method validation for diverse chemical contaminants in foods to improve their analysis and, ultimately, protect human health. Her research work has resulted in 75 publications, including 2 book chapters, multiple invited presentations, webinars, interviews and given trainings in the USA and abroad. She currently serves on the Editorial Boards of the Journal of Food Protection and Bulletin of Environmental Contamination and Toxicology.
Prior to joining USDA in 2011, Yelena was a Research Chemist at the National Oceanic and Atmospheric Administration (NOAA) in Charleston, SC, where she developed analytical methods for analysis of emerging contaminants, including pharmaceuticals and personal care products (PPCPs), hormones, flame retardants, novel antifouling biocides, andapplied the developed methods to monitor contaminants in estuarine and marine environment. She served on the Board of Directors for Carolinas SETAC (Society of Environmental Toxicology and Chemistry) in 2005-2011.
Yelena joined ACS while conducting her postdoctoral studies at the Environmental Sciences Department, University of California, Riverside, 2001-2004. In 2004, she received the Agrochemical Division Young Scientist Research Travel Award. Yelena has organized and chaired several symposia for the ACS national meetings and Pacifichem meeting, served on AGRO Executive Committee, and served as an AGRO Division email newsletter editor for the last ten years.
2021
Mike Krolski
Qing Li
Kalumbu Malekani (Malek)
Carmen Tiu
2020
Cheryl B. Cleveland
Aaron D. Gross
Heidi B. Irrig
2019
Leah S. Riter
2018
John J. Beck
Julie E. Eble
2017
Thomas Stevenson
2017
Steven Lehotay
2017
Marja Koivunen
2017
Jay Gan
2017
Diana Aga
2016
Sharon K. Papiernik, USDA-ARS
2016
Pamela J. Rice, USDA-ARS
2016
Kevin L. Armbrust, Louisiana State University
2016
Del A. Koch, Evans Analytical Group
2014
Jeanette M. Van Emon
2014
Aldos C. Barefoot
2013
Teresa A. Wehner
2013
Stephen O. Duke
2013
Kenneth D. Racke
2013
Cathleen J. Hapeman
2012
John J. Johnston
2012
Jeffrey J. Jenkins
2011
Laura L. McConnell
2008
Allan S. Felsot
2007
John M. Clark
2007
Donald Wauchope
2007
Ann T. Lemley
2006
Terry D. Spittler
2005
Rodney Bennett
2003
Judd O. Nelson
2001
Robert Hoagland
2000
Barry Cross
1998
Paul Giesler
1998
Hank Cutler
1996
John Bourke
1994
Willis Wheeler
1994
Ralph Mumma
1994
James Heitz
1993
Larry Ballantine
1992
Joel Coats
1992
Guy Paulson
1992
Don Baker
1991
Nancy N. Ragsdale
1990
Joseph Fenyes
1988
Jan Chambers
1988
James N. Seiber
1987
Willa Garner
1986
Gunter (Jack) Zweig
1985
Richard C. Honeycutt
1985
Henry Dishburger
1983
John Harvey, Jr.
1981
Robert M. Hollingsworth
1981
Gino J. Marco
1980
John B. Siddall (Posthumous)
1980
G. Wayne Ivie
1979
Rodney D. Moss
1978
S. Kris Bandal
1978
Paul Hedin
1977
Gustave K. (Bob) Kohn
1976
Marguerite L. Leng
1976
Jack R. Plimmer
1976
Gerald G. Still
1975
Maurice B. Green
1975
Hank F. Enos
1975
Charles H. Van Middelem
1974
Morton Beroza
1974
Joe C. Street
1974
James P. Minyard, Jr.
1973
Philip C. Kearney
1973
Mr. Roger C. Blinn
1973
Julius J. Menn
1972
Wendell F. (Bud) Phillips
1972
Elvins Y. Spencer
1972
Donald G. Crosby
1971
Tom H. (Bucky) Harris
1971
Louis Lykken
1971
Herman Beckman (Posthumous)