The purpose of the New Investigator Award is to recognize scientists who have obtained a doctoral degree and are actively conducting academic, industrial, consulting, or regulatory studies.
To be eligible for the award, the scientist must have obtained his or her doctorate no more than five years before the time of the Fall ACS National Meeting. Thus, for 2022, applications will be considered from scientists who have obtained their doctorates no earlier than the year 2017.
A panel consisting of at least three AGRO members will chose up to three finalists based on their extended abstracts, 1-page curricula vitae, and letter(s) of recommendation.
Each finalist will receive up to $1275 for travel and meeting expenses.
Each finalist will deliver an oral presentation (which will be judged by the panel) in one of the AGRO Program symposia.
The winner, who will receive a plaque, will be chosen after all finalists have presented their papers.
2020 New Investigator Finalists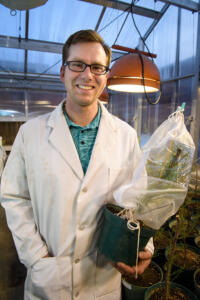 Alex Gaffke received his PhD in Ecology and Environmental Sciences from Montana State University with a focus on entomology and chemical ecology under the supervision of David Weaver. His dissertation research explored the use of aggregation causing semiochemicals to increase the efficacy of a weed biological control program through spatial manipulation of the biological control agent.
Alex is a postdoctoral research entomologist at the USDA-ARS, Center for Medical, Agricultural and Veterinary Entomology under the supervision of Hans Alborn. His postdoctoral research concerns investigating the factors that govern plant-insect-nematode interactions with a primary focus on semiochemicals that regulate entomopathogenic nematode infection dynamics. Broader knowledge of the behavioral and chemical ecology of entomopathogenic nematodes will lead to improved efficacy as well as host selectivity of these nematodes in agriculture.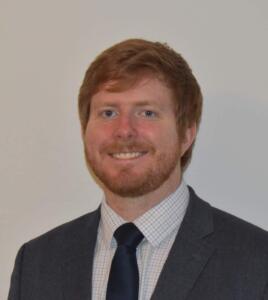 Edmund Norris received his PhD in Entomology and Toxicology from Iowa State University in 2018 under the supervision of Joel Coats and Lyric Bartholomay. For his dissertation, he explored the ability of plant compounds to enhance a variety of synthetic insecticides against mosquitoes, but he also focused more broadly on natural product chemistry and the mechanisms by which natural plant compounds affect the physiology of medical and veterinary pest insects.
Edmund is a post-doctoral research associate at the Emerging Pathogens Institute under the direction of Jeffrey Bloomquist at University of Florida. Edmund is interested in the development of novel repellents and insecticidal formulations that may circumvent insecticide resistance, while primarily focusing on natural products as his inspiration. His research focuses on better understanding the mechanisms of novel insecticidal, repellent, and synergistic agents using a variety of electrophysiolgical, pharmacological, and biochemical techniques.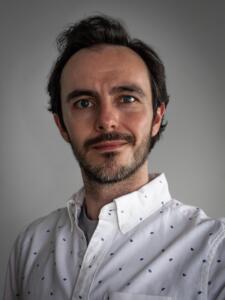 José Luis Rodriguez Gil is a Research Associate at the International Institute for Sustainable Development (IISD) – Experimental Lakes Area and the University of Manitoba. Jose Luis received his PhD in Environmental Biology and Toxicology from the University of Guelph under the supervision of Keith Solomon and Mark Hanson. His thesis focused on the refinement of the aquatic risk assessment of POEA, the surfactant most commonly employed in the original formulations of Glyphosate. José Luis' research is divided between experimental field work and the analysis of existing data for the risk assessment of pesticides and other contaminants.
Over the years, José Luis has had the opportunity to work in a number of unique mesocosm facilities, where he has been able to generate ecosystem-level effects data, as well as environmentally realistic fate data for pesticides, adjuvants, and other contaminants. He is currently at the IISD – Experimental Lakes Area, where he will use their 58 experimental lakes to continue this line of research. At the same time, José Luis is passionate about the improvement and development of new risk assessment approaches able to make effective use of the rich datasets currently available.
Past Awardees
2019
Edmund Norris, University of Florida, Gainesville (Winner)
Scott O'Neal, University of Nebraska-Lincoln (Finalist)
Leslie Rault , University of Nebraska-Lincoln (Finalist)
2018
Liu Yang, University of Florida, Gainesville (Winner)
Scott O'Neal, University of Nebraska-Lincoln (Finalist)
Leslie Rault , University of Nebraska-Lincoln (Finalist)
2017
Maykel Hernández-Mesa,L'Université Nantes Angers Le Mans, France  (Winner)
Emily Woodward, US Geological Survey, Sacramento, CA (Finalist)
Caitlin Rering, USDA Agricultural Research Service, Gainesville, FL (Finalist)
2016

Aaron Gross, Iowa State University (Winner)
Anson Main, University of Missouri-Columbia (Finalist)
Ana María Vélez, University of Nebraska-Lincoln (Finalist)
2015

Bartek Troczka, Rothamsted Research (Winner)
Weiying Jiang, California Environmental Protection Agency (Finalist)
Fang Jia, Bayer CropScience (Finalist)
John Sivey, Towson University (Finalist)
2014

Lacey Jenson, Virginia Tech (Winner)
Natasha Andrade, University of Maryland, College Park (Finalist)
Helene Hopfer, University of Technology, Austria (Finalist)
2013

Daniel Swale, University of Florida, Gainesville (Winner)
Chloé de Perre, Southern Illinois University, Carbondale (Finalist)
Chitvan Khajuria, University of Nebraska, Lincoln (Finalist)
2012

Xin Zhang, Kansas State University (Winner)
Jeremy Conkle, University of California, Riverside
Fan Tong, Iowa State University
2011

Cody Howard, University of California, Davis
2010

Kyoung Sup Yoon, University of Massachusetts, Amherst
2009

Jennifer Anderson, Iowa State University
2008

Ashli Brown, Mississippi State University