The Journal of Agricultural and Food Chemistry (JAFC) and the ACS Divisions of Agricultural and Food Chemistry (AGFD) and Agrochemicals (AGRO) are seeking nominations for the Research Article of the Year Award Lectureship.
Two papers will be awarded, one from each category, for an outstanding article published in 2021 (either in an issue of JAFC or ASAP) that demonstrates creativity and impact on agricultural and food chemistry as a whole.
The Journal of Agricultural and Food Chemistry Co-sponsored by AGFD & AGRO Divisions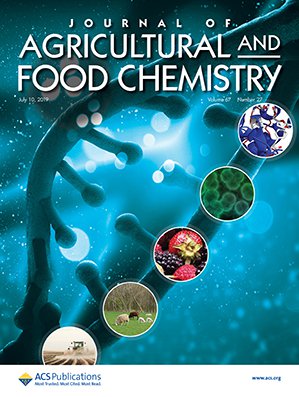 2021 AGRO Best Papers
Evaluation of Matrix Effects and Extraction Efficiencies of LC–MS/MS Methods as the Essential Part for Proper Validation of Multiclass Contaminants in Complex Feed. J. Agric. Food Chem. 2020; 68(12), 3868–3880.
David Steiner, Rudolf Krska, Alexandra Malachová, Ines Taschl, and Michael Sulyok
The authors investigated the contribution of matrix effects and extraction efficiencies to the overall performance of LC-MS/MS multiclass methods and proposed a fit for purpose validation protocol for complex feed matrices. The proposed approach is based on artificially prepared model matrices which ensures an accurate but not overestimated method performance and better reflects real-life conditions of complex feedstuff. Considerable analyte/matrix dependent differences between performance criteria for compound feed formulas and single feed ingredients revealed that requirements of future validation guidelines for feed should be extended and harmonized.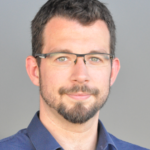 David Steiner is an analytical chemist and Team Lead at Romer Labs Diagnostic GmbH in Tulln, Austria. He holds an MS in nutritional science and a PhD in food chemistry and biotechnology which he received from the University of Natural Resources and Life Sciences, Vienna (BOKU). During his PhD, he developed a unique LC-MS/MS based multiclass approach for the simultaneous determination of >1200 agricultural contaminants in complex feed. He conducted this work within the Austrian Competence Centre for Feed and Food Quality Safety and Innovation (FFoQSI GmbH). His research interests include toxicology and analytical chemistry with special focus on mycotoxin analysis aimed at improving food and feed safety.
Quantitative Dietary Fingerprinting (QDF)—A Novel Tool for Comprehensive Dietary Assessment Based on Urinary Nutrimetabolomics. J. Agric. Food Chem. 2020, 68, 7, 1851–1861
The authors present a new analytical tool for quantitative dietary fingerprinting using urinary metabolomics analysis, which allows the simultaneous quantitation of around 350 food-derived metabolites including polyphenols, glucosinolates, amino acids, methylxanthines, alkaloids and markers of alcohol and tobacco consumption. Dietary assessment is a challenge in nutritional studies, so this method is a significant tool for precision nutrition studies and investigating gut microbiota.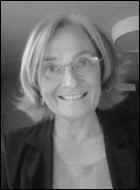 Cristina Andrés-Lacueva is full professor and Icrea Academia awardee at the Nutrition, Food Science, and Gastronomy Department of the Pharmacy and Food Science Faculty at the University of Barcelona where she leads the Biomarkers and Nutritional and Food Metabolomics research group. Since 2017,she has been a Principal Investigator at CIBERFES-isciii, Biomedical Research Network on Frailty and Healthy Aging. Her group works on the understanding of qualitative and quantitative links between dietary patterns, nutritional phenotype, and risk factors for diet-related chronic diseases.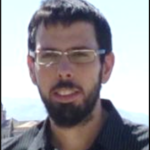 Raúl González-Domínguez received his PhD in Chemistry at the University of Huelva, Spain in 2015, and then joined the University of Barcelona as a postdoctoral researcher under the Juan de la Cierva program funded by the Spanish Ministry of Science. His research interests are focused in the development and application of targeted and untargeted metabolomics approaches in food science, epidemiological, nutritional, and biomedical research.
Past Awardees
2020
3-Chloro-5-trifluoromethylpyridine-2-carboxylic acid, a metabolite of the fungicide fluopyram, causes growth disorder in Vitis vinifera
J. Agric. Food Chem. 2019; 67(26):7223-7231
Peter Robatscher, Daniela Eisenstecken, Gerd Innerebner, Christian Roschatt, Barbara Raifer, Hannes Rohregger, Hansjörg Hafner, and Michael Oberhuber
2019
Bioactivity-Guided Metabolite Profiling of Feijoa (Acca sellowiana) Cultivars Identifies 4-Cyclopentene-1,3-dione as a Potent Antifungal Inhibitor of Chitin Synthesis
J. Agric. Food Chem., 2018, 66 (22), pp 5531–5539
DOI: 10.1021/acs.jafc.7b06154
Mona Mokhtari, Michael D. Jackson, Alistair S. Brown, David F. Ackerley, Nigel J. Ritson, Robert A. Keyzers, and Andrew B. Munkacsi
2018
Identification of the Ubiquitous Antioxidant Tripeptide Glutathione as a Fruit Fly Semiochemical
J. Agric. Food Chem., 2017, 65 (39), pp 8560–8568
DOI: 10.1021/acs.jafc.7b03164
Xavier Cheseto, Donald L. Kachigamba, Sunday Ekesi, Mary Ndung'u, Peter E. A. Teal, John J. Beck, and Baldwyn Torto
2017
Quantitation of Aristolochic Acids in Corn, Wheat Grain, and Soil Samples Collected in Serbia: Identifying a Novel Exposure Pathway in the Etiology of Balkan Endemic Nephropathy
J. Agric. Food Chem., 2016, 64 (29), pp 5928–5934
DOI: 10.1021/acs.jafc.6b02203
Wan Chan, Nikola M. Pavlović, Weiwei Li, Chi-Kong Chan, Jingjing Liu, Kailin Deng, Yinan Wang, Biljana Milosavljević, and Emina N. Kostić
2016
Olfactory Cues from Different Plant Species in Host Selection by Female Pea Moths
J. Agric. Food Chem., 2015, 63 (8), pp 2127–2136
DOI: 10.1021/jf505934q
Gunda Thöming and Hans Ragnar Norli
2015
Identification of Plant Metabolites of Environmental Contaminants by UPLC-QToF-MS: The in Vitro Metabolism of Triclosan in Horseradish
J. Agric. Food Chem., 2014, 62 (5), pp 1001–1009
DOI: 10.1021/jf404784q
André Macherius, Bettina Seiwert, Peter Schröder, Christian Huber, Wilhelm Lorenz, and Thorsten Reemtsma
2014
Antifungal Activity against Plant Pathogens of Metabolites from the Endophytic Fungus Cladosporium cladosporioides
J. Agric. Food Chem., 2013, 61 (19), pp 4551–4555
DOI: 10.1021/jf400212y
Xiaoning Wang, Mohamed M. Radwan, Amer H. Taráwneh, Jiangtao Gao, David E. Wedge, Luiz H. Rosa, Horace G. Cutler, and Stephen J. Cutler
2013
Identifying New Lignin Bioengineering Targets: Impact of Epicatechin, Quercetin Glycoside, and Gallate Derivatives on the Lignification and Fermentation of Maize Cell Walls
J. Agric. Food Chem., 2012, 60 (20), pp 5152–5160
DOI: 10.1021/jf203986a
John H. Grabber, Dino Ress, and John Ralph