The Journal of Agricultural and Food Chemistry (JAFC) and the ACS Divisions of Agricultural and Food Chemistry (AGFD) and Agrochemicals (AGRO) are seeking nominations for the Research Article of the Year Award Lectureship.
Two papers will be awarded, one from each category, for an outstanding article published in 2021 (either in an issue of JAFC or ASAP) that demonstrates creativity and impact on agricultural and food chemistry as a whole.
The Journal of Agricultural and Food Chemistry Co-sponsored by AGFD & AGRO Divisions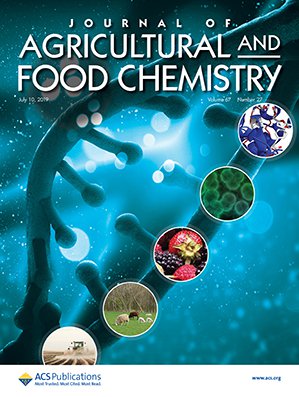 2022 AGRO Best Papers
Unraveling the Ergot Alkaloid and Indole Diterpenoid Metabolome in the Claviceps purpurea Species Complex Using LC–HRMS/MS Diagnostic Fragmentation Filtering J. Agric. Food Chem.  2021, 69, 25, 7137–7148
doi.org/10.1021/acs.jafc.1c01973
Silvio Uhlig, Oscar Daniel Rangel-Huerta, Hege H. Divon, Elin Rolén, Kari Pauchon, Mark W. Sumarah, Trude Vrålstad, and Justin B. Renaud
This research article describes an approach to evaluate the diversity of ergot alkaloids and indole diterpenoids and other important biochemical contaminants present in cereal grains using UHPLC-HRMS, molecular biology methods, statistics, and chemical profiling procedures. The data could be used to set up allowable maximum levels of ergot alkaloids in grain and cereal products.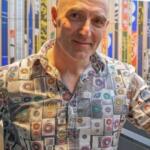 Dr. Silvio Uhlig is a chemist and senior researcher at the Chemistry and Toxinology Research Group at Norwegian Veterinary Institute in Ås, Norway, which works broadly on different topics within toxin chemistry as well as the biology of toxin-producing organisms. He is especially interested in applying modern analytical chemistry techniques in a toxicological or biological context, such as chemotaxonomy or bioassay-guided isolation.

Dysregulation of ClpP by Small-Molecule Activators Used Against Xanthomonas oryzae pv. oryzae Infections. J. Agric. Food Chem. 2021, 69, 27, 7545–7553
doi.org/10.1021/acs.jafc.1c01470
Teng Yang, Tao Zhang, Xiang Zhou, Pengyu Wang, Jianhua Gan, Baoan Song, Song Yang, and Cai-Guang Yang
Xanthomonas oryzae pv. oryzae (Xoo) causes rice bacterial leaf blight disease. Caseinolytic protease P (ClpP) is highly conserved in the majority of bacterial species and plays a central role in protein quality control by degrading misfolded proteins. In this research article the authors determined the crystal structure of XooClpP and demonstrated a new mode of action of ClpP activators against Xoo to prevent rice bacterial leaf blight.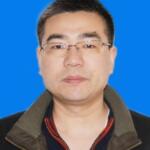 Dr. Song Yang is Full Professor at the Key Laboratory of Green Pesticide and Agricultural Bioengineering, Ministry of Education of China, Guizhou University. He leads the Green Pesticide and Molecular Target Discovery research group and focuses on the discovery of new agrochemical lead compounds as well as their molecular targets, and the development of green pesticides targeting agricultural bacterial and fungal disease.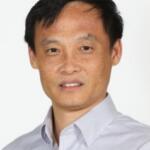 Dr. Cai-Guang Yang is Full Professor at the State Key Laboratory of Drug Research and the Center for Chemical Biology at Shanghai Institute of Materia Medica, Chinese Academy of Sciences. Since 2020, he has been an Adjunct Professor at School of Pharmaceutical Science and Technology, Hangzhou Institute for Advanced Study, University of Chinese Academy of Sciences. He leads the Chemical Biology based Drug Discovery research group and focuses on the development and application of chemical probes for functional intervention of untargeted proteins.
Past Awardees
2021
Evaluation of Matrix Effects and Extraction Efficiencies of LC–MS/MS Methods as the Essential Part for Proper Validation of Multiclass Contaminants in Complex Feed. J. Agric. Food Chem. 2020; 68(12), 3868–3880.
David Steiner, Rudolf Krska, Alexandra Malachová, Ines Taschl, and Michael Sulyok
Quantitative Dietary Fingerprinting (QDF)—A Novel Tool for Comprehensive Dietary Assessment Based on Urinary Nutrimetabolomics. J. Agric. Food Chem. 2020, 68, 7, 1851–1861
Raúl González-Domínguez, Mireia Urpi-Sarda, Olga Jáuregui, Paul W. Needs, Paul A. Kroon, and Cristina Andrés-Lacueva
2020
3-Chloro-5-trifluoromethylpyridine-2-carboxylic acid, a metabolite of the fungicide fluopyram, causes growth disorder in Vitis vinifera
J. Agric. Food Chem. 2019; 67(26):7223-7231
Peter Robatscher, Daniela Eisenstecken, Gerd Innerebner, Christian Roschatt, Barbara Raifer, Hannes Rohregger, Hansjörg Hafner, and Michael Oberhuber
2019
Bioactivity-Guided Metabolite Profiling of Feijoa (Acca sellowiana) Cultivars Identifies 4-Cyclopentene-1,3-dione as a Potent Antifungal Inhibitor of Chitin Synthesis
J. Agric. Food Chem., 2018, 66 (22), pp 5531–5539
DOI: 10.1021/acs.jafc.7b06154
Mona Mokhtari, Michael D. Jackson, Alistair S. Brown, David F. Ackerley, Nigel J. Ritson, Robert A. Keyzers, and Andrew B. Munkacsi
2018
Identification of the Ubiquitous Antioxidant Tripeptide Glutathione as a Fruit Fly Semiochemical
J. Agric. Food Chem., 2017, 65 (39), pp 8560–8568
DOI: 10.1021/acs.jafc.7b03164
Xavier Cheseto, Donald L. Kachigamba, Sunday Ekesi, Mary Ndung'u, Peter E. A. Teal, John J. Beck, and Baldwyn Torto
2017
Quantitation of Aristolochic Acids in Corn, Wheat Grain, and Soil Samples Collected in Serbia: Identifying a Novel Exposure Pathway in the Etiology of Balkan Endemic Nephropathy
J. Agric. Food Chem., 2016, 64 (29), pp 5928–5934
DOI: 10.1021/acs.jafc.6b02203
Wan Chan, Nikola M. Pavlović, Weiwei Li, Chi-Kong Chan, Jingjing Liu, Kailin Deng, Yinan Wang, Biljana Milosavljević, and Emina N. Kostić
2016
Olfactory Cues from Different Plant Species in Host Selection by Female Pea Moths
J. Agric. Food Chem., 2015, 63 (8), pp 2127–2136
DOI: 10.1021/jf505934q
Gunda Thöming and Hans Ragnar Norli
2015
Identification of Plant Metabolites of Environmental Contaminants by UPLC-QToF-MS: The in Vitro Metabolism of Triclosan in Horseradish
J. Agric. Food Chem., 2014, 62 (5), pp 1001–1009
DOI: 10.1021/jf404784q
André Macherius, Bettina Seiwert, Peter Schröder, Christian Huber, Wilhelm Lorenz, and Thorsten Reemtsma
2014
Antifungal Activity against Plant Pathogens of Metabolites from the Endophytic Fungus Cladosporium cladosporioides
J. Agric. Food Chem., 2013, 61 (19), pp 4551–4555
DOI: 10.1021/jf400212y
Xiaoning Wang, Mohamed M. Radwan, Amer H. Taráwneh, Jiangtao Gao, David E. Wedge, Luiz H. Rosa, Horace G. Cutler, and Stephen J. Cutler
2013
Identifying New Lignin Bioengineering Targets: Impact of Epicatechin, Quercetin Glycoside, and Gallate Derivatives on the Lignification and Fermentation of Maize Cell Walls
J. Agric. Food Chem., 2012, 60 (20), pp 5152–5160
DOI: 10.1021/jf203986a
John H. Grabber, Dino Ress, and John Ralph