2023 ACS Spring National Meeting

AGRO PROGRAMMING ACTIVITIES SPRING 2023 ACS MEETING IN INDIANAPOLIS MARch 27-29, 2023
After first meeting in the "Circle City" a decade ago, the ACS will be back in Indianapolis for the Spring National Meeting during March of 2023, and AGRO programming has been concentrated on Monday through Wednesday, March 27-29. The ACS Theme for the Indianapolis meeting is "Crossroads of Chemistry", and you will find full details on the ACS Meetings & Expos website. Both registration and housing for the Indianapolis meeting are open via the ACS website.
Typically, AGRO has targeted its programming activities for the Fall ACS National Meetings but, with Indy being right in the heart of the Midwest agriculture region and in close proximity to a number of highly active ag research organizations, AGRO decided it was opportune to develop programming for the Spring 2023 ACS National Meeting in Indianapolis. AGRO program activities for Indianapolis include technical symposia, a combined poster session, and a social networking event. We invite your participation in these technical and social activities for Indianapolis, which are outlined below.
Click here for a program brochure summarizing AGRO activities for Indianapolis 2023
Click here for the Call for Papers for Indianapolis 2023
TECHNICAL Program
The AGRO technical program for Indianapolis will consist of 4 symposia and include around 100 presentations organized into 11 oral sessions and 1 combined poster session.  All AGRO oral sessions will be held at the Crowne Plaza Hotel Downtown Union Station, which is adjacent to the Convention Center.  A summary schedule for the AGRO program is shown below along with short descriptions of the 4 symposia.  Full program details may be found on the ACS website.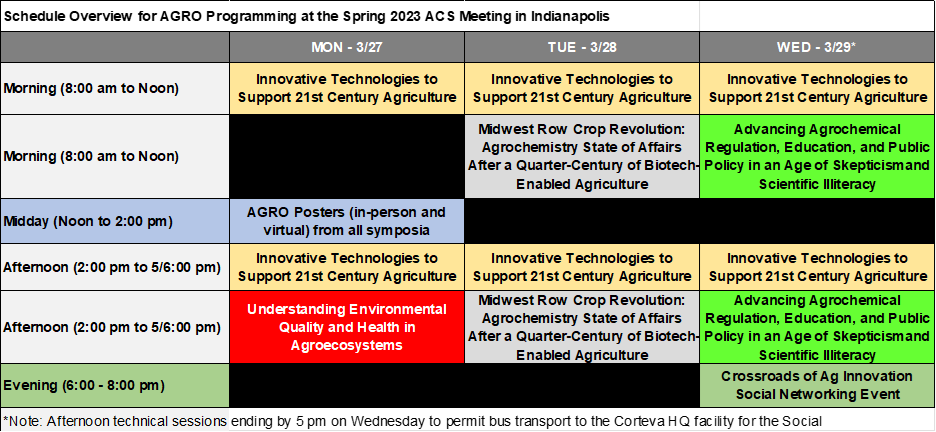 CROSSROADS OF AG INNOVATION AGRO EVENING SOCIAL NETWORKING EVENT
An exciting social networking event is being planned for AGRO members and guests on Wednesday evening, March 29, 2023, from 6:00 to 8:00 PM.  The event will be hosted by Corteva Agriscience at its stunning Indianapolis headquarters and R&D campus, and complimentary bus transport to and from the Convention Center and the social location is being arranged.  Full details are still being developed, but mark your calendars now for joining in the festivities:
Enjoy refreshments and have fun
Network and engage with fellow scientists
Meet and hear from distinguished ACS and industry leaders
Test your knowledge and win prizes
Social Networking Event advance registration information will be available in early 2023.
Click here for a save-the-date brochure for the AGRO Crossroads of Ag Innovation
Attendance is free, but pre-registration is required for the AGRO social event.  There are two ways you can sign up via the ACS Indy meeting registration process:
First, if you have yet to register for the ACS meeting, you can select a ticket for the AGRO social event as part of the online registration process.
Second, if you already registered for the ACS meeting, you can "upgrade" your registration to add a ticket for the AGRO social. This is done by following the "Registration Resource Center" link within your emailed registration confirmation and then following the "upgrade" registration process.
FOR MORE INFORMATION
Please contact Ken Racke, coordinator for AGRO Indy programming activities, or Aaron Gross, AGRO 2023 Program Chair.