This Lectureship was established in 1981 by ARS to honor the memory of Sterling B. Hendricks and to recognize scientists who have made outstanding contributions to the chemical science of agriculture. Hendricks contributed to many diverse scientific disciplines, including soil science, mineralogy, agronomy, plant physiology, geology, and chemistry. The deadline for nominations is December 31, 2022.  For more information, direct inquiries to HendricksLecture@usda.gov.
2021 Awardee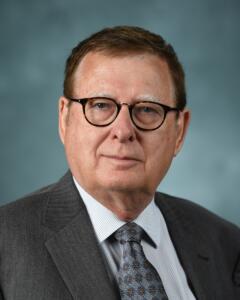 Stephen O. Duke is internationally recognized for his basic and applied research on natural products as sources of pesticides and the biochemical and physiological modes of action of and resistance to herbicides. He is also well known for his extensive research on the herbicide glyphosate and glyphosate-resistant weeds and crops. His research has significantly influenced companies involved in pesticide discovery.
Steve received a BS in 1966 from Henderson State University (Arkadelphia, AR) and an MS in 1969 from the University of Arkansas. Then, he spent two years as a U.S. Army Medical Service Corps officer, a year of which was spent in Viet Nam. In 1975. he received a PhD in Plant Physiology and Biochemistry from Duke University. He is currently a principal scientist at the National Center for Natural Products Research (NCNPR) which is an institute of the School of Pharmacy of the University of Mississippi in Oxford, Mississippi. Before this position he was a Research Leader of a USDA, Agricultural Research Service natural products laboratory located at NCNPR and, before that, he was Director of the USDA Southern Weed Science Laboratory in Stoneville, MS.
His PhD research was on phytochrome (discovered by Sterling Hendricks) control of plant biochemistry. His earliest research focused on plant photobiology and photochemistry, but he soon began studying the mechanisms of action of both synthetic and natural herbicides. He is especially known for his research on the mode of action of protoporphyrinogen oxidase-inhibiting herbicides. He also delved into the chemistry and mechanisms of chemical warfare between plants (allelopathy). Much of his research is on the biological activities of newly discovered natural compounds that might be used in pest management. Some of his more recent research has been on the use of genes for pest management.
He has authored almost 500 refereed papers and book chapters, two patents, and one co-written text book, as well as editing eleven books. Much of this work is highly cited, resulting in Web of Science and Google Scholar h-indices of 70 and 100, respectively.
He has been President or Chair of the Agrochemical Division (AGRO) of the American Chemical Society (ACS), the Weed Science Society of America (WSSA), the International Weed Science Society (IWSS), and the International Allelopathy Society (IAS). He is a fellow of ACS, the American Association for the Advancement of Science, AGRO, and WSSA. Other honors include the Molisch Award (IAS), the Outstanding International Achievement award of IWSS, the International Research Award of AGRO, and an honorary doctorate from the University of the Basque Country (Bilbao, Spain). He was elected to the USDA, ARS Science Hall of Fame in 2017. He has been Editor-in-Chief of the journal Pest Management Science since 2012 and serves on the editorial boards of several other journals.
1981
Norman E. Borlaug, Nobel Laureate, International Maize and Wheat Improvement Center, Mexico City, Mexico
1982
Warren L. Butler, University of California-San Diego
1983
Melvin Calvin, Nobel Laureate, University of California-Berkeley
1984
Frederick Ausubel, Harvard Medical School, Boston, Massachusetts
1985
Alan Putnam, Michigan State University, East Lansing
1986
Ralph Hardy, Cornell University and BioTechnica International, Ithaca, New York
1987
Mary-Dell Chilton, Ciba-Geigy Corporation, Research Triangle Park, North Carolina
1988
Bruce N. Ames, University of California, Berkeley
1989
Sanford A. Miller, University of Texas Health Science Center at San Antonio, Texas
1990
Roy L. Whistle, Purdue University, West Lafayette, Indiana
1991
Peter S. Eagleson, Massachusetts Institute of Technology, Cambridge
1992
John E. Casida, University of California-Berkeley
1993
Philip H. Abelson, Deputy Editor, Science, and Scientific Advisor to AAAS, Washington, DC
1994
Wendell L. Roelofs, Cornell University, Ithaca, New York
1995
Winslow R. Briggs, Carnegie Institution of Washington, Stanford, California
1996
Hugh D. Sisler, University of Maryland, College Park
1997
Ernest Hodgson, North Carolina State University, Raleigh
1998
Morton Beroza, USDA-ARS (retired), Beltsville, Maryland
1999
Bruce D. Hammock, University of California-Davis
2000
William S. Bowers, University of Arizona, Tuscon
2001
Malcolm Thompson, USDA-ARS (retired), Beltsville, Maryland
2002
Irvin E. Liener, University of Minnesota, St. Paul
2003
Kriton Kleanthis Hatzios, Virginia Polytechnic Institute and State University, Blacksburg
2004
Robert L. Buchanan, Food and Drug Administration, College Park, Maryland
2005
Donald L. Sparks, University of Delaware, Newark
2006
Stanley B. Prusiner, Nobel Laureate, University of California, San Francisco
2007
Bruce E. Dale, Michigan State University, East Lansing
2008
Fergus M. Clydesdale, University of Massachusetts-Amherst
2009
Charles J. Arntzen, Arizona State University-Tempe
2010
Chris Somerville, Director of the Energy Biosciences Institute, Berkeley, California
2011
Deborah P. Delmer, University of California-Davis
2012
Eric Block, University at Albany, State University of New York
2013
Keith Solomon, University of Guelph, Canada
2014
Robert T. Fraley, Monsanto, Company, St. Louis, Missouri
2015
James Tumlinson, Penn State, University Park
2016
May R. Berenbaum, University of Illinois Urbana-Champaign
2017
John Pickett, Rothamsted Research, United Kingdom
2018

James N. Seiber, University of California, Davis
2019

John W. Finley, Louisiana State University, Baton Rouge
2020
Thomas C. Sparks, Corteva Agrisciences, Wilmington, DE
2021
Fereidon Shahidi, Memorial University of Newfoundland, Newfoundland, Canada