This Lectureship was established in 1981 by ARS to honor the memory of Sterling B. Hendricks and to recognize scientists who have made outstanding contributions to the chemical science of agriculture. Hendricks contributed to many diverse scientific disciplines, including soil science, mineralogy, agronomy, plant physiology, geology, and chemistry. Nominations should normally be received by December 31 of each year; however, the deadline has been extended to January 15, 2020.  For more information, direct inquiries to HendricksLecture@ars.usda.gov.
2019 Awardee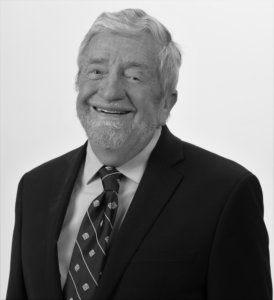 John W. Finley, emeritus professor at Louisiana State Univeristy (LSU), is a native of Central New York. He received an AD from Auburn Community College, a BS in Chemistry from LeMoyne College, and a PhD from Cornell University. After a post-doc with J.R. Brunner at Michigan State University, in 1969, John joined the USDA Agricultural Research Service at the Western Regional Research Center (WRRC) in Albany, California. 
While at WRRC, John conducted research on the isolation, chemical modification, and influences of processing of proteins. After 13 years, he moved to Ralston Purina in St. Louis as head of methods development and established new methods for rapid analysis. He then joined the University of Iowa Department of Pediatrics to head the microchemistry laboratory.  
In 1983, he moved to Nabisco Foods in New Jersey and planned, recruited, and built a fundamental science program that included 50 preeminent industrial food scientists. While at Nabisco, he directed the development, scale-up, and safety testing of low-calorie fats. 
John joined Monsanto in 1996 and directed research focused on the modification of lipids to control bioavailability, participated in defining targets for plant lipid biotechnology, and worked on acquisition evaluations. He also led the group that developed applications of the intense sweetener neotame. He moved to Kraft Foods where he was an internal consultant in biotechnology and conducted long–term research. Several new technologies were established including a means to reduce acrylamide formation in baked and fried products. 
In 2007, John was appointed Head of the Department of Food Science at LSU  with an adjunct appointment at the Pennington Biomedical Research Center (PBRC). His research interests focused primarily on health benefits of bioactives and dietary fiber. He established a colonic fermentation model that studied the interactions between polyphenolic compounds in foods and gut microbiota.  
John led efforts to enhance the processing and quality assessment of Louisiana seafood including assessment of safety and quality of seafood after the Deepwater Horizon Disaster. His work included the development of a natural, bitter blocking technology that masked bitter and astringent notes from polyphenolics as well as blocking potassium bitterness in beverages. While at PBRC, he studied protein modification to produce low methionine proteins, ketogenic lipids, and deuterium–depleted water.  
John has been an active member of the ACS Division of Agricultural and Food Chemistry for 50 years, was a division Chair, and currently serves as a councilor. He was an Associate Editor of the Journal of Agricultural and Food Chemistry from 1999 to 2018. He is an ACS Fellow and an AGFD Fellow. 
Currently, John is advising start up companies on many issues, including gut microbiome interactions with foods and the development of diet beverages and foods. He recently led the revision of the text book, Principles of Food Chemistry. 
John and his wife Lucille reside in Florida and have a combined four married children and six grandchildren living along the east coast from New York to Florida. 
1981
Norman E. Borlaug, Nobel Laureate, International Maize and Wheat Improvement Center, Mexico City, Mexico
1982
Warren L. Butler, University of California-San Diego
1983
Melvin Calvin, Nobel Laureate, University of California-Berkeley
1984
Frederick Ausubel, Harvard Medical School, Boston, Massachusetts
1985
Alan Putnam, Michigan State University, East Lansing
1986
Ralph Hardy, Cornell University and BioTechnica International, Ithaca, New York
1987
Mary-Dell Chilton, Ciba-Geigy Corporation, Research Triangle Park, North Carolina
1988
Bruce N. Ames, University of California, Berkeley
1989
Sanford A. Miller, University of Texas Health Science Center at San Antonio, Texas
1990
Roy L. Whistle, Purdue University, West Lafayette, Indiana
1991
Peter S. Eagleson, Massachusetts Institute of Technology, Cambridge
1992
John E. Casida, University of California-Berkeley
1993
Philip H. Abelson, Deputy Editor, Science, and Scientific Advisor to AAAS, Washington, DC
1994
Wendell L. Roelofs, Cornell University, Ithaca, New York
1995
Winslow R. Briggs, Carnegie Institution of Washington, Stanford, California
1996
Hugh D. Sisler, University of Maryland, College Park
1997
Ernest Hodgson, North Carolina State University, Raleigh
1998
Morton Beroza, USDA-ARS (retired), Beltsville, Maryland
1999
Bruce D. Hammock, University of California-Davis
2000
William S. Bowers, University of Arizona, Tuscon
2001
Malcolm Thompson, USDA-ARS (retired), Beltsville, Maryland
2002
Irvin E. Liener, University of Minnesota, St. Paul
2003
Kriton Kleanthis Hatzios, Virginia Polytechnic Institute and State University, Blacksburg
2004
Robert L. Buchanan, Food and Drug Administration, College Park, Maryland
2005
Donald L. Sparks, University of Delaware, Newark
2006
Stanley B. Prusiner, Nobel Laureate, University of California, San Francisco
2007
Bruce E. Dale, Michigan State University, East Lansing
2008
Fergus M. Clydesdale, University of Massachusetts-Amherst
2009
Charles J. Arntzen, Arizona State University-Tempe
2010
Chris Somerville, Director of the Energy Biosciences Institute, Berkeley, California
2011
Deborah P. Delmer, University of California-Davis
2012
Eric Block, University at Albany, State University of New York
2013
Keith Solomon, University of Guelph, Canada
2014
Robert T. Fraley, Monsanto, Company, St. Louis, Missouri
2015
James Tumlinson, Penn State, University Park
2016
May R. Berenbaum, University of Illinois Urbana-Champaign
2017
John Pickett, Rothamsted Research, United Kingdom
2018

James N. Seiber, University of California, Davis