This Lectureship was established in 1981 by ARS to honor the memory of Sterling B. Hendricks and to recognize scientists who have made outstanding contributions to the chemical science of agriculture. Hendricks contributed to many diverse scientific disciplines, including soil science, mineralogy, agronomy, plant physiology, geology, and chemistry. The deadline for nominations is December 31, 2022.  For more information, direct inquiries to HendricksLecture@usda.gov.
2023 Awardee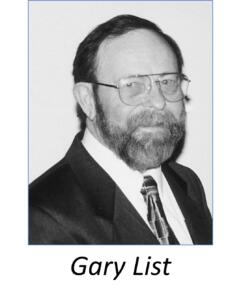 Gary List is a veteran of the U.S. Army (1960-1963) where he worked as a technican at the U.S. Army Medical Laboratory at Edgewood Arsenal in Maryland. He was the coauthor of two publications in the Journal of the American Chemical Society and the Archives of Biochemistry and Biophysics. His contributions were further recognized by a commendation from the U.S. Secretary of Defense and a promotion to E-5.
Gary began his career in the USDA-Agricultural Research Service at the Northern Regional Research Laboratory in Peoria, Illinois in 1963 as a physical science aid and was quickly promoted to GS-9. In 1971, he completed an AD with 30 hours of chemistry, and in 1975, he was promoted to GS-11 Chemist. He retired in 2007 as a GS-15.
Gary was awarded a D.Sc.(Honoris Causa) by the University of Illinois in 2011 in recognition of his reseach on soybean oil. His research has encompased virtually every phase of oilseed processing and edible fats and oils. He is the author of 490 publications, including 45 book chapters and editor of 8 books. He has contributed to four revisions of the standard fats and oils textbook Baileys Industrial Oil And Fat Products publinshed in 1985, 1996, 2005, and 2020.
Gary has received the top awards in lipids, food, and agricutural chemistry from the American Oil Chemists Society (AOCS), Institute of Food Technologists (IFT), American Chemical Society (ACS), and European Federation Lipid Technology. He has been active in AOCS, IFT, and ACS and is a fellow in each. Service awards from AOCS include the Award of Merit and the Baldwin Distinguished Service Award. He was selected as the IFT Chicago Section Fred W.Tanner Lecturer and was only the second bench chemist to give it in its 50 year history. The IFT Minnesota Section presented him with the Harold Macy Award for technology transfer activities between government, industry, and academia. Just two other USDA scientists have received the Macy Award since 1981. In 2006, the United Soybean Board honored him with a Distinguished Service Award in recognition of his contributions to the soybean industry. He has given invited plenary lectures in Canada, Austria, China, Turkey, and Taiwan.
Gary and his wife have 4 children and 7 grandchildren. His hobbies include military history and the history of the fats and oils industry. They are both active in their local church and inner city ministry. From 1989 to 2002, they were foster and adoptive parents to 20 children.
1981
Norman E. Borlaug, Nobel Laureate, International Maize and Wheat Improvement Center, Mexico City, Mexico
1982
Warren L. Butler, University of California-San Diego
1983
Melvin Calvin, Nobel Laureate, University of California-Berkeley
1984
Frederick Ausubel, Harvard Medical School, Boston, Massachusetts
1985
Alan Putnam, Michigan State University, East Lansing
1986
Ralph Hardy, Cornell University and BioTechnica International, Ithaca, New York
1987
Mary-Dell Chilton, Ciba-Geigy Corporation, Research Triangle Park, North Carolina
1988
Bruce N. Ames, University of California, Berkeley
1989
Sanford A. Miller, University of Texas Health Science Center at San Antonio, Texas
1990
Roy L. Whistle, Purdue University, West Lafayette, Indiana
1991
Peter S. Eagleson, Massachusetts Institute of Technology, Cambridge
1992
John E. Casida, University of California-Berkeley
1993
Philip H. Abelson, Deputy Editor, Science, and Scientific Advisor to AAAS, Washington, DC
1994
Wendell L. Roelofs, Cornell University, Ithaca, New York
1995
Winslow R. Briggs, Carnegie Institution of Washington, Stanford, California
1996
Hugh D. Sisler, University of Maryland, College Park
1997
Ernest Hodgson, North Carolina State University, Raleigh
1998
Morton Beroza, USDA-ARS (retired), Beltsville, Maryland
1999
Bruce D. Hammock, University of California-Davis
2000
William S. Bowers, University of Arizona, Tuscon
2001
Malcolm Thompson, USDA-ARS (retired), Beltsville, Maryland
2002
Irvin E. Liener, University of Minnesota, St. Paul
2003
Kriton Kleanthis Hatzios, Virginia Polytechnic Institute and State University, Blacksburg
2004
Robert L. Buchanan, Food and Drug Administration, College Park, Maryland
2005
Donald L. Sparks, University of Delaware, Newark
2006
Stanley B. Prusiner, Nobel Laureate, University of California, San Francisco
2007
Bruce E. Dale, Michigan State University, East Lansing
2008
Fergus M. Clydesdale, University of Massachusetts-Amherst
2009
Charles J. Arntzen, Arizona State University-Tempe
2010
Chris Somerville, Director of the Energy Biosciences Institute, Berkeley, California
2011
Deborah P. Delmer, University of California-Davis
2012
Eric Block, University at Albany, State University of New York
2013
Keith Solomon, University of Guelph, Canada
2014
Robert T. Fraley, Monsanto, Company, St. Louis, Missouri
2015
James Tumlinson, Penn State, University Park
2016
May R. Berenbaum, University of Illinois Urbana-Champaign
2017
John Pickett, Rothamsted Research, United Kingdom
2018

James N. Seiber, University of California, Davis
2019

John W. Finley, Louisiana State University, Baton Rouge
2020
Thomas C. Sparks, Corteva Agrisciences, Wilmington, DE
2021
Fereidon Shahidi, Memorial University of Newfoundland, Newfoundland, Canada
2022
Stephen Duke, USDA-ARS, Stoneville, MS