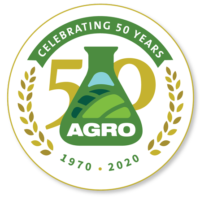 AGRO launches new anniversary logo and website to celebrate 50 years
AGRO is preparing to celebrate 50 years of excellence in 2020! As part of the celebration, AGRO has launched a special anniversary edition of its logo and has updated its website to be more mobile friendly and interactive for its members.
The new WordPress site will be easier to update with the latest news and events information. Multiple AGRO volunteers will be able to gain credentials to submit posts and events. Becoming a member of AGRO is now a streamlined process via a direct link to the ACS website!
If you have feedback or suggestions for the new site, please contact Laura McConnell.